DR RAJIV MIGLANI
Dr Rajiv Miglani finds it very satisfying to serve the people and getting to provide quality health care. He loves educating his patients about ways to maintain their oral health.
Education and Continuing Education
Dr Rajiv attended SNIDS HASSAN, where he got his basic graduation degree. He did his post graduation ,Masters in Dental Surgery(MDS)in Prosthodontics and Implants from KD DENTAL COLLEGE,MATHURA

He did his internship from the reputed institute of INMAS, DEFENCE RESEARCH AND DEVELOPMENT ORGANISATION, New Delhi, where he had a chance to do research work for Implants. He further sharpened his skills in Implants by doing an advanced Implant course by 'Nobel Bio care', a number 1 Company of Implants.

Dr rajiv took an advanced training in aesthetic dentistry from the 'NEW YORK UNIVERSITY COLLEGE OF DENTISTRY'. The world's number one city had enough to teach about dentistry and life.

Taken up lots of dental courses, he feels blessed to have been trained in multiple other techniques and fabulous methods to help people attain their perfect smile.

Apart from all this, he believes in socializing with people through clubs like Lions Club and Bharat Vikas Parishad.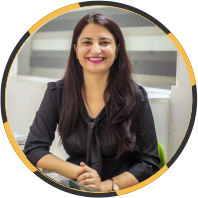 DR MRIDU MIGLANI
Dr Mridu Miglani,is an Aesthetic Medi Cosmetologist,an orthodontist,an avid writer and an expert in Naturopathy too.She has her advanced fellowship in Cosmetology and Aesthetic medicine (Germany),with more than 18 years of experience in her practice and specialises in straightening the maligned and crooked teeth and various aesthetic and cosmetic procedures dealing with hair and skin too.She even runs an academy for the upcoming doctors at her clinic.
Education
Bachelor of Dental Sciences (BDS)
DAV(C)Dental College. Yamunanagar, Kurukshetra University, Haryana
Masters in Dental Science (MDS)
Orthodontics And Dentofacial Orthopaedics KD Dental College, Mathura, BR Ambedkar University, Agra.
Post graduate Diploma in Clinical cosmetology (PGDCC)
Griefswald University, Germany
Mastership in Facial Aesthetics & Microblading
University of Messina(Europe)
Diploma in Naturopathy & Yoga (NDDY)
Gandhi National Academy of Naturopathy(Delhi)
Certification in Aesthetic & Smile Makeover
New York University (New York, USA)
Diploma in Facial Aesthetics
Institute of Cosmetology & Laser Sciences, Mumbai
Certification in Inman Aligners (London)
Certification in implants by Nobel Bio-Care
She is an active member of Indian Dental Association and International Academy of Aesthetic and Cosmetic Dentistry.
She is a proud author of many books like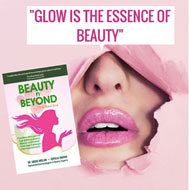 "Beauty and Beyond- The new Era" which high lightens the latest technologies in cosmetic treatments of face.
Facial Esthetics in Dentistry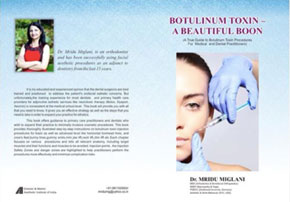 Botox: A Beautiful Boon
DR. MANJUSHA KHURANA
Dr. Manjusha Khurana is an eminent Ayurveda acharya (scholar in dravyaGuna) practising from the last 30 years and is a proud mentor of Naturopathy and Panchkarma courses at Aesthetic Institute of India.(An educational unit of Smiling Faces) She also has been editor in Chief of Health Magazine, Nirog Samaj for last twelve years. She is Managing Director of ayurvedic drugs manufacturing unit with the name "Sanjivani Health Care". She has a vast knowledge of medicinal plants and is committed to give the best Ayurvedic treatment to patients using her knowledge of medicinal plants.
Her field of interest includes diabetes mellitus, esthetics and has presented several clinical papers at the national level. Not only this, she believes in spreading awareness about health by organizing camps and seminars as President of Sanjivani Health Awareness Society.
EDUCATION AND TRAINING
MD


Ayurveda (Drvyaguna) Uttrakhand University

BAMS(BACHELOR IN AYURVEDA SCIENCES)


Mast Nath Ayurvedic College, Asthalbohar , Rohtak (Haryana),

MA(health)


Kurukshetra University

ND(Diploma in Naturopathy )


Akhil Bhartiya Parishad(Delhi)

PGDCA(Post Graduate Diploma in Computer Science)



DR. SUDHIR SINGH

Dr. Sudhir Singh,is a renowned plastic surgeon and has overall more than 11 years of experince in plastic surgery.He has been associated with Max hospital Shalimar Bagh delhi and Maharaja Agarsen Hospital Delhi as an associate consultant.He also is an assistant professor in the Department of plastic surgery at SSPG & PGTI Noida.
EDUCATION AND TRAINING
MBBS


Maulana Azad Medical College Delhi

MS (General Surgery)


Maulana Azad Medical College Delhi,(May 2005 – April 2008) Senior Residency Department Of Plastic Surgery,Maulana Azad Medical College Delhi Lok Nayak Hospital (June 2008 – Feb 2009 )

DNB (Plastic Surgery)


Department Of Plastic Surgery,Maulana Azad Medical College Delhi , Lok Nayak Hospital (Feb 2009 – Feb 2012 )

Senior Residency


Department Of Plastic Surgery Maulana Azad Medical College Delhi Lok Nayak Hospital (March 2012 – May 2012 )

MCH (Plastic Surgery)


Department Of Plastic Surgery,Vardhman Medical College Delhi Safdurjung Hospital (Aug 2012– July 2015)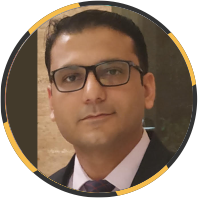 DR. ATUL SHARMA
MBBS, MS (Gen Surgery), M.Ch. (Plastic Surgery), DNB(Plastic surgery)
EDUCATION AND TRAINING
M.B.B.S


M.G.M .Medical College , Indore Devi Ahilya University

M.S. (General Surgery)


Jawaharlal Nehru Medical College Aligarh Muslim University

DNB (Plastic Surgery)


National Board Of Examinations , New Delhi

M.Ch (Plastic Surgery)


Postgraduate Institute Of Medical Education And Research PGIMER,Chandigarh.






ADDITIONAL QUALIFICATION
Diploma in Hospital Management from NIHFW, New Delhi
CLINICAL EXPERIENCE
Assistant Professor, Plastic surgery December 2016– till date


Department Of Plastic Surgery, Superspeciality Paediatric Hospital & Post Graduate Teaching Institute, Noida

Associate Consultant ,Plastic Surgery September 2015– Dec 2016


Department Of Cosmetology And Plastic Surgery , Artemis Hospital, Gurgaon .

SeniorResident (M.Ch.) July 2012– June 2015


Department Of Plastic Surgery, Pgimer, Chandigarh

Senior Resident


Department Of Burns And Plastic Surgery, Lok Nayak Hospital & Maulana Azad Medical College,New Delhi

Junior Resident


Department Of Surgery, Jnmc, Amu , Aligarh

Rotatory Internship


Maharaja Yashwantrao Hospital, Indore
RESEARCH PUBLICATION AND PAPER PRESENTATIONS
Original article :

Spectrum of Paediatric Plastic surgery in a Superspeciality paediatric hospital – first of its kind in India , International journal of scientific research , vol 7 , issue 1 , January -2018

Original article :

Ban on Fire Cracker Sale: Its Impact on Fire Work Injuries in Pediatric Population in Delhi-NCR Region at a Pediatric Tertiary Care Centre,Indian journal of Scientific Research, vol 8, no.6(2018) Co- authored a book- Necrotising fasciitis: Experiences and a study in India Verma, Akshay Kumar; Ali, Syed Asmat; Sharma, Atul Author Published by LAP Lambert Academic Publishing (2011) ISBN 10: 3846524832 ISBN 13: 9783846524831
Published case report-Teratoma of the lumbosacral region: a case report.inJ Med Case Rep. 2011 Aug 12;5:370. doi: 10.1186/1752-1947-5-370
Paper presentation titled "Gynaecomastia- Simple problem with simple solutions" in AESURG 2019 , Lonavala Paper presentation on "Cleft Palate- Changing Incidence Or Neglect – Our Centre Experience" in INDOCLEFTCON 2018, Kolkata
Faculty lecture on "Role of Nursing Personnel in management of Paediatric wounds" in WOUNDCARECON 2017 , New Delhi Paper presentation on "Efficacy of gluteus Maximus as neosphincter for anal incontinence" in APSICON 2016, New delhi
Paper presentation on "Subcutaneous phaeohypomycosis – A rare entity in non –immunocompromised patient" in APSICON 2014, Chandigarh
AREAS OF INTEREST
Aesthetic facial plastic surgery and fat transfer procedures are the areas of interest
The other areas of interest are Craniofacial and cleft surgeries ,Hand surgery ,Faciomaxillary injury and trauma management.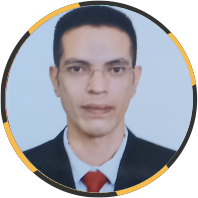 DR AMIT SAHU
DR AMIT SAHU is working as an anaesthetist in the surgeons team at Smiling Faces.
EDUCATION AND TRAINING
MBBS


Jiwaji University,Gwalior

DA


Rani Durga Wati Vishwa Vidyalaya,Jabalpur

MA(health)


Kurukshetra University

ND(Diploma in Naturopathy )


Akhil Bhartiya Parishad(Delhi)

PGDCA(Post Graduate Diploma in Computer Science)



DR SAUMYA KHURANA
Dr. Saumya Khurana is working as ae endodontist at Smiling Faces. She is currently also working as a senior resident in ITS Dental College,Muradnagar.(Ghaziabad). She specializes in root canal therapy and cosmetic dentistry. Her area of interest lies in remineralization of lost tooth structure, for which she has received a grant by Indian Council Of Medical Rseaearch(ICMR).
EDUCATION AND TRAINING
Bachelor of Dental Sciences (BDS)


Manipal College of Dental Sciences, Manipal.

Masters in Dental Sciences (MDS)


(Conservative Dentistry and Endodontics) JSS Dental College, Mysuru.

Diploma in Naturopathy &Yoga


Gandhi National Academy of Naturopathy(Delhi)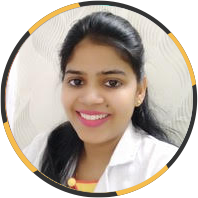 DR. LATIKA VATS
A judicious professional with 8 years rich experience in Dentistry especially RCT, FPD, CD, Restoration, crown cutting.
EDUCATION AND TRAINING
BDS from K.D. Dental College & Hospital, Mathura affiliated by Dr. B.R. Ambedkar University (Agra). (2006 to 2011)
Responsibilities:
Taking history, doing complete oral & dental examination, general examination, making diagnosis, prescribing medication and making appropriate referrals when needed, during oral medicine posting
Ultrasonic and hand scaling root planning, curettage.
Pedodontic works like restorations, scaling, deciduous extraction, pulpectomy.
Amalgam & GIC fillings, composite, RCT, IPC, fabrication of complete & partial dentures, crown cutting (ant. & post.)
Extraction, alveoloplasty, apicoectomy.
DR.MEHAK JAIN
Dr.Mehak Jain is working as an Associate Dentist at Smiling Faces in Shalimar Bagh.She is well trained in various dental skills including Scaling, Extractions, Splintings,RCT and Fillings.
EDUCATION AND TRAINING
Practised in Maharaja Agrasen Hospital under senior doctors.