What is ORTHODONTICS?
Correction of any kind of irregularities in teeth is called ORTHODONTICS and can be done by various methods like:
1. BRACES
WHY DO WE NEED BRACES?
Our aim as orthodontist is:
Closing wide gaps between the teeth.
Aligning the tips of the teeth.
Straightening crooked teeth.
Improving speech or chewing ability.
Boosting the long-term health of gums and teeth.
Preventing long-term excessive wear or trauma of the teeth.
Treating an improper bite.
At Smiling Faces, we offer a variety of options for the type of brackets, the colour of the elastics, and even the colour of the arch wire. We also offer lingual braces which are placed on the backside of each tooth.
What kind of braces is available?
The different type of braces available are:
INVISIBLE BRACES(ALIGNERS)
Unless you tell them, nobody will know you're wearing braces.
What are aligners?
An effective and non-intrusive treatment which makes no compromises in bringing the brightest smile to your face.
What are Clear Aligners?

Clear braces or aligners are the custom-made plastic trays that are worn on the teeth for teeth straightening. Unlike braces, there are no metallic wires, brackets or tiny rubber bands.

What are the benefits of Clear Aligners?

Aligners have multiple features. They are removable, comfortable, and virtually invisible and allow you to enjoy every aspect of life which makes them preferable over braces.

How long should you wear aligners?

Aligners must be worn for 22 hours a day to get the expected result. Aligners should only be removed for eating, drinking, and oral hygiene.

What teeth misalignments can be corrected with clear aligners?

Clear aligners help in teeth straightening. Anyone suffering from mal-aligned teeth, overbite, cross-bite, gaps in teeth can take aligner treatment after consulting an orthodontist.

How should you clean your aligners?

Use the cleaning kit. If you do not have the cleaning kit, you may clean them by using a soft-bristled toothbrush and recommended toothpaste. Gently brush the aligners and wash them thoroughly with clean water.

At what age can you start wearing your clear aligner?

Clear Aligners are suitable for all ages. However, the patient must have all permanent teeth erupted.
The other different type of braces available are:
Coloured Braces
Coloured braces refers to the different colours of elastic bands that are available to attach the arch wire to the bracket. Ligatures are replaced at appointments, and many children and teens like to choose brightly coloured elastic bands. We have a few dozen different colours including pastels, metallic colours, and glow-in-the-dark colours.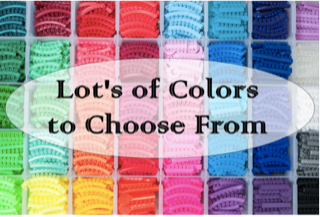 Stainless Steel Metal Braces
They are the most economic option if you are looking for cheap braces
Gold Braces
Gold plated braces provide an aesthetic appeal as they blend better with teeth
Clear Braces - Clear Braces
Clear braces are an excellent alternative for patients who desire less no- ticeable braces. The brackets on these braces are made of ceramic and blend in nicely with the colour of your teeth.
Inman Aligner
The Inman Aligner is a fantastic, simple and hassle-free way of straightening your front teeth. It is the orthodontic treatment of choice for adult relapse. In the past anyone with crooked teeth have had only a few choices. However the Inman Aligner now gives us all a very real alternative. Because it works so quickly and efficiently, if you don't like the idea of having brackets stuck to your teeth or waiting months and months for a clear brace to work, you can now have your front teeth straightened in as little as 6 -16 weeks.
The Inman Aligner - "The 12 Week Wonder Brace"
Smiling Faces is proud to introduce a new cutting edge procedure, the Inman Aligner can straighten front teeth in a fraction of the time of conventional orthodontics.
The Inman Aligner is a removable appliance that applies continuous gentle pressure which quickly aligns crowded front teeth. The initial treatment can be completed in 8-12 weeks. Minor crowding can be corrected in 8 weeks or less. As the Inman Aligner is removable, it can be removed to eat and to clean the teeth.
The Inman Aligner is one of the most amazing breakthroughs of recent years and the ability to carry out rapid tooth movements prior to cosmetic treatment allows us to be more conservative than ever before. Treatments look and feel better, last longer and are healthier for your teeth and mouth.
Lingual Braces
These are like conventional fixed braces except the brackets are bonded to the inside of the teeth so they are invisible to others. Lingual braces can be used to straighten teeth from almost all case types. Treatment times vary depending on case type typically from 6 to 24 months.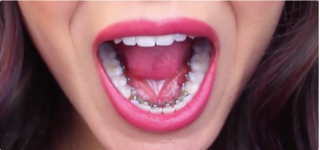 Lingual braces are very similar to traditional braces except that the brackets are bonded to the back side or lingual (tongue) side of the tooth. The purpose of positioning the brackets on the back sides of the teeth is to minimize the appearance of braces. This is an excel- lent option for a teen or adult who does not like the look of metal braces.
The process of creating your customised lingual braces begins with making a mould or impression of your teeth. This mould is sent to the laboratory. The laboratory uses computer-aided design software to manufacture customised brackets for each tooth. The brackets are made from a dental gold alloy. These brackets are then bonded to the back side of your teeth. The arch wire, which is designed and bent to your specific orthodontic requirements, is then installed.
Many patients find that there is an adjustment period with lingual braces; during the first few weeks their tongue might be sore and their speech is a little slurred.
Lingual braces are an excellent solution to correct the problem of a deep overbite. They are also a good choice if you are concerned about damaging the front surface of your teeth with brackets. If you qualify for standard braces, you will most likely qualify for lingual braces.